Our customers Nicola and Stephen have moved into their dream new build property at Heaton Green, Dowbridge after falling in love with our homes.
The couple, who share three children – Reuben, 13, Freddie, 8 and Frankie, 5 – chose the new four-bedroom Sanderson, which has plenty of open-plan living space for the whole family.
They are settling into their new home perfectly after receiving their keys in March.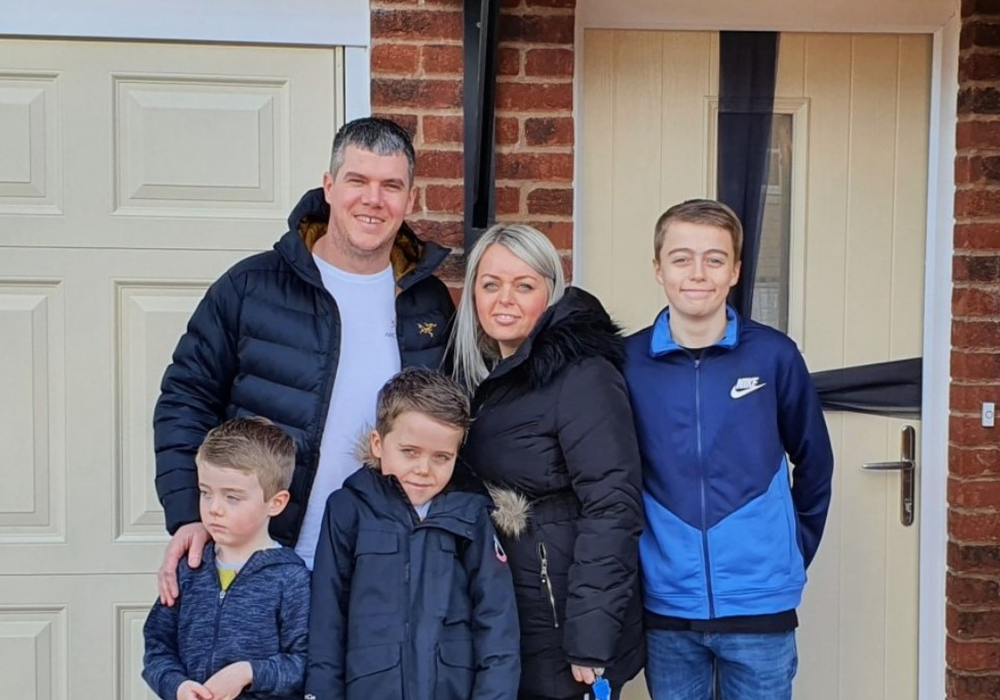 Why they love it:
"We love the space and layout of the Sanderson, especially the kitchen/diner with the island. It's such a great space for the all family and for entertaining, plus the bi-fold doors make the room so much bigger than I imagined it would be – it's perfect" said Nicola who is a Beauty Therapist and Nail Technician.
The couple also love the location of Heaton Green: "We already lived in Wesham which is quite close to Heaton Green. We've always loved Dowbridge as it's such a desirable area to live in; we are still close to the boys' schools but also a little bit out of the way, which we love."
Why they chose a Story home:
Before purchasing at Heaton Green, the family visited our Willows Edge development. Stephen explained: "We first visited the show home at Wrea Green and fell in love with Story. I'm a joiner so can be really picky, but I was so impressed by the quality and the character – the homes didn't look like your standard new build property."
The couple reserved the Sanderson before they'd seen the house type in person, with Nicola explaining: "We just knew it would be perfect. I also have friends who own Story homes and raved about them, so we were really confident with our decision."
What the buying journey was like:
The family took advantage of our Part Exchange scheme to secure their new home and they "couldn't believe how easy and stress free it was." As part of the scheme, we purchased their property for up to 100 per cent of its market value, effectively acting as a cash buyer for their house.
Discussing their purchasing journey with us, Stephen said: "We are extremely happy with everything in our new home. Our Sales Executive Dawn was amazing – she took care of everything and relieved all the stress you'd expect from buying a new home. Paul the Site Manager was also great – he has helped with any small problems. Everyone has gone above and beyond for us and we are very grateful."
Nicola concluded: "I recommend Story Homes to everybody – my sister in law is actually also looking at purchasing at Heaton Green."
To find out more about our Part Exchange scheme, visit the 'Ways To Buy' pages of our website.
Here's some images from our Sanderson show home at Edgehill Park in Whitehaven – you can see why Nicola and Stephen chose this beautiful home.