Story Homes and mascot Builder Bear will be at a number of annual shows and events this summer.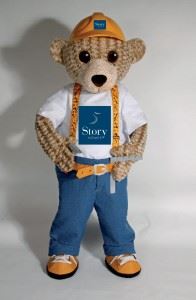 Come and talk to us about buying your dream Story Home in one of our many locations. Not only can we tell you about the fantastic latest offers, we can advise you on the best deal to help you move into a brand new Story Home.
Information about our current and future local developments, deals and offers on our quality and high specification homes will be available from one of our friendly sales advisers. There will also be a chance to chat with our land buyer. If you want to come and have an informal chat with us or bring the family to meet Builder Bear, we will be at:
Cumberland Show – Saturday 8th June
Penrith Show – Saturday 27th July
Dumfries Show – Saturday 3rd August
Story Homes currently has live developments across Cumbria, the North East, Southern Scotland and Lancashire. We are also planning a number of new developments across these regions in the coming months.
We offer exceptional homes, ranging from detached, semi detached, bungalows, town houses or terraced. And we can provide everything your family needs, from two to five bedrooms, garages, outside living space and ample room inside to entertain or relax.
Our long and proud reputation has been built on the quality finish, beautiful street scenes, value for money and added extras we provide as standard.   For more information about our developments, browse our website or visit our social media pages on Facebook and Twitter.