Story Homes put St Mary's on the map
December 2015
A Lancashire primary school has been put on the map thanks to new signage from Story Homes.
Governors from St Mary's Catholic Primary school in Lea Town approached us for funding for three new directional signs, to try and increase awareness of the school as more people move into the area.
Situated in the village of Lea Town, between Lea and Cottam, the school is located near the site of our Waterside development which work is due to start on in the coming months.
The development will see 283 homes built at Cottam Hall north of the Lancaster Canal, and will feature a mixture of two, three, four and five bedroom properties.
Cottam Hall is owned by the Homes and Communities Agency and is being developed as part of the Preston, South Ribble and Lancashire City deal. The City Deal was agreed between Preston City Council, South Ribble Borough Council and Lancashire County Council, along with central government and the Homes and Communities Agency (HCA).
The 150 acre site has overall outline planning permission for 1,100 homes, which will be brought to the market over the next few years.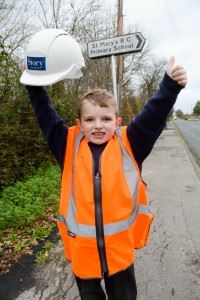 City Councillor for Lea and Cottam Christine Abram, who is also a governor at the school contacted Story Homes about the funding, she said: "Cottam is being developed at a great pace with around 1,100 homes being built which means that more children will need school places.
"The Headmistress was aware that there was a lack of directional signs to the village school. We didn't think that new residents were aware or even being informed of the school.  We welcome new pupils and are determined to survive and flourish.
"Lancashire County Council approved the signs but needed the payment up front. As a small school we didn't have the extra cash lying around.  I tried various avenues for funding and was pleased to find that Story Homes has a web page devoted to supporting the community. I applied through this method and was delighted when we were successful."
We have pledged to contribute more than £1.6m towards local education as part of an agreement between Story Homes and the Homes and Communities Agency, Preston City Council and Lancashire County Council.
We will also be spending around £1.4m on funding other improvements in the local area, which includes; spending £390,000 on the Tom Benson Way Cycle Lane and making a £960,000 contribution to public transport and £60,000 to Guild Wheel improvements.
Sue Warwick, North West MD for Story Homes said: "We are pleased to have been able to help St Mary's RC school gain directional signage and are glad that the school is happy with the results.
"We are committed to giving something back to the communities which our work impacts upon."
For more information on our Waterside development at Cottam or to register your interest follow this link