Residents at Summerpark in Dumfries have been making the most of a new meeting point after a gastro-pub opened its doors to residents.
Located next to the prestigious Story Homes development the Lockards Farm pub is an up-market establishment offering families and friends a central point to meet and eat.
Leanne Houston, 30, a primary school teacher lives on the Summerpark Development. Her partner, Mikey, 31, works in the oil industry and they have a 15-month old daughter Olivia.
She said: "I'm delighted that the pub has opened. It's a really welcome addition to the area. It is beautiful inside and the staff are all really lovely.
"I've been in several times already with my friends and also with Mikey and Olivia. There's a play area outside the back and the children's menu is great. It's lovely to have a place within the community where people can get together and socialise."
Story Homes sales manager Susan Pollard said: "Residents have told us that there is the need for a good place to meet up with friends and families near Summerpark.
"Lockards Farm pub is run by Marston's Inns and Taverns which has experience in managing over 500 premises across the country, and it will be one of their high-end Rotisserie pubs.
"This is a valuable new asset for the residents of the Summerpark Story Homes development and we are pleased that it offers a centre point for people to socialise and dine with their families.
"It is the first new pub to open up in Dumfries for a long time, and it's great to see how many of our customers are already discovering it is a valuable community resource."
Summerpark is Story Homes' award-winning, prestigious development of beautifully designed houses for sale in Dumfries. It is currently the largest development site in Dumfries and Galloway.
Summerpark was started in 2006 and over 100 properties are now complete and occupied by happy residents. The development nestles next to the Fountainbleau and Ladypark Nature Reserve and takes its name from two farms which were originally on the site.
Located in a beautiful part of Scotland, Summerpark offers buyers the best of both worlds, sitting close to the Solway Firth and being easily accessible via motorway routes both north and southbound.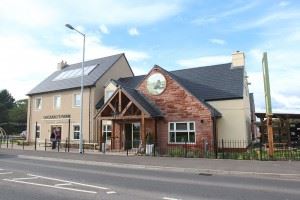 Summerpark is an established community with neighbours already enjoying the space and laid-back lifestyle their new home and street offers them. The homes being built at Summerpark continue to reflect the area, incorporating high-quality sandstone, render and brick.
For more information about Summerpark click here or call Ann/Fiona on 07966496184