'The Story Difference' is launched on our website
July 2014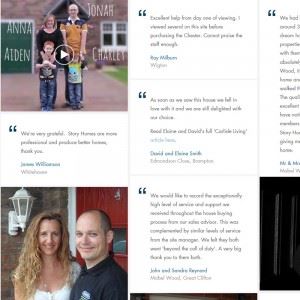 We are launching a new section on our website today, telling our 'Story' and explaining what makes us different from other housing developers.
'The Story Difference' covers the history of Story Homes, right back to 1987. It also contains new videos about the company ethos, feedback from our customers, a new area for all of our interactive content and information about how you can work with us if you are a subcontractor or a hopeful new colleague.
Steve Errington, Chief Executive of Story Homes said: "The Story Difference really brings our website to life. With interactive content, videos and case studies, you really start to understand why we stand out from the crowd when it comes to housing developers. Our long history and strong reputation for quality and customer care set us apart and hopefully everybody will agree that The Story Difference explains this exciting journey very well."
The Story Difference has been designed and built in partnership with web developers Union Room. Jordan Hall of Newcastle based Union Room said: "The quality of Story Homes' product helps them stand out in a competitive sector and they tasked us with creating a product that would reflect that quality.
"The team at Story Homes really understand the importance of good online content and this is reflected in what Union Room have created. The Story Difference was built using the latest responsive design methods, ensuring that users can access this content regardless of if they are using a desktop, tablet or mobile."
The Story Difference will evolve in the next few weeks, adding to it; past projects, Sustainable Story, design and features and specification.
To view The Story Difference click here.