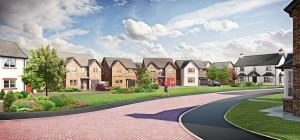 Story Homes will be bringing two stunning new developments to west Cumbria in the coming months.
High quality homes will be built at both High Harrington and Whitehaven, with work starting on site in the summer. Planning approval for both projects was granted by the Allerdale and Copeland planning authorities in mid May.
The development at High Harrington, to be known as Whins Farm Close, will provide 75 new two, three and four bedroom homes, elegantly finished with some natural stone. The site will also feature equipped play space, a public footpath linking to an existing footpath network and access from the main road.
The development at Waters Edge is on the former Rhodia office site at Kells, Whitehaven. Forty new two, three and four bedroom homes will be built on the 1.8 hectare site, including apartments and bungalows. The development also features an area of open space overlooking the Irish Sea and has links to the popular and stunning coastal footpath.
Other Story Homes developments are proving popular in west Cumbria, including Mabel Wood in Great Clifton, St. Mungo's Close in Dearham and Magellan Park in Whitehaven.
Story Homes has a strong reputation for designing and building beautiful high specification homes, with a range of sizes and styles to suit every situation. Customer comments focus on the high quality exceptional finish of the properties, value for money and the before and after care provided by the friendly staff.
For more information about these developments please contact sales@storyhomes.co.uk or follow our Story Homes Cumbria Facebook page.