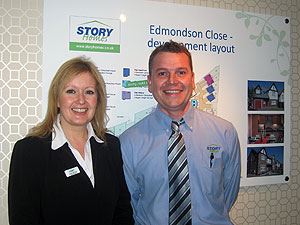 Mark Irving won a Quality Award in NHBCs national Pride in the Job competition for his management of another flagship Story development in Dumfries. He was the natural choice for managing the Brampton site; buyers will have no doubt as to the quality and exacting standards their property will be built to. The prestigious award recognised Marks outstanding achievement in every aspect of his work. As well as exceptional standards in the day to day running of a site, Mark had to display excellence in technical knowledge, consistency in the build process, leadership and organisational skills. He was selected from over 18,000 site managers across the UK to win one of only 400 Quality Awards.
Mark has worked within the Homes division of the Story Group for 10 years. Starting as a bricklayer, the 38-year old has worked his way up to be one of the companies top Site Managers.
Mark said 'I am really pleased to be running our new site in Brampton. It is a top notch site with a high specification and it is already looking fantastic with its sandstone exteriors. Story Homes build properties in locations where people want to live and where communities can develop. I get to know the buyers soon after they reserve as some come to site to see their property progressing; its this relationship which gives our developments something money cant buy – a sense of neighbourliness and community spirit. That gives me an immense sense of achievement and pride in what I do. I have a great team at Edmondson Close and were working hard to deliver another quality development.
Edmondson Close is an exclusive development located to the east of Brampton and unsurprisingly there have been good house sales since the site opened just a few weeks ago. The development takes its name from Bramptons first station master, Thomas Edmondson, who invented the first railway ticket to be printed by a machine. There is still a railway station there today, offering easy access into Carlisle and further afield.
Properties here include 3-bedroom semi-detached and 4-bedroom detached houses, currently priced from £242,950 – £297,950.
Louise McGuckin, Sales Manager for Story Homes said 'There arent many buyers who can boast that an award winning Site Manager built their house, as well as being built by an award-winning company – Marks award puts him in an elite band of around 2% of Site Managers in the country!! Edmondson Close is a flagship development and it is essential that we maintain our outstanding reputation for quality and design. That requires dedication and hard work from the whole team, especially from our Site Managers. Id encourage buyers to visit site, talk to our Sales Adviser, and see why our properties, and our staff, continue to win awards.
The Marketing Suite at Edmondson Close is open Thursday – Monday, 10.30am – 4.30pm. It is expected that the new show at Edmondson Close will open at the beginning of May. For further details and to arrange to view, please contact Jane on 07739 327080, email: Edmondson.Close@storyhomes.co.uk
NOTES FOR EDITORS:
Marks is the fourth NHBC Pride in the Job Award to be awarded to a Story Homes employee.