Model, author and now designer, there isn't much Jools Oliver doesn't turn her hand to.
As the wife of Britain's best-loved chef Jamie and mother of their four children, Jools shares with us the inspiration behind her latest Little Bird collection for Mothercare.
What led you to launch your own children's wear label, Little Bird?
I'd always talked about designing a children's collection with my friends and when I had Buddy, many of my friends told me how hard it was to find fashionable boys' clothing. So, when Mothercare approached me, it just felt like the right thing to do and just at the right time.
Where do you find inspiration for your designs?
I take inspiration mainly from my own childhood memories of growing-up in the 70s with my sisters. I love 70s styles with hints of LA retro cool.
Do your kids have their own sense of style?
Absolutely, the older girls do love skinny jeans, Converse and sweatshirts which is just like me. I love their style as it really reflects their personalities. They are at that age where clothes and how they look are becoming more important to them. Petal adores dresses and Buddy loves checked shirts and jeans, but also his Batman outfit!
What tips do you have for buying the right clothes for children?
I love children to look like children, innocent and comfortable in soft fabrics. I like to avoid over-styled clothes that are covered in logos, and concentrate on simple designs that are bright and fun. It's also really important that the child likes the outfit too.
As someone with such great style, tell us about the interior design scheme of y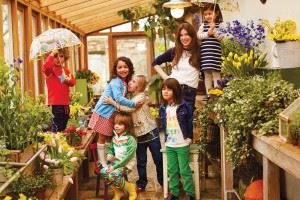 our home?
It's quite eclectic. I always wanted our home to feel lived in and welcoming. I'm not a 'show-home' kind of person so we have lots of pieces that we have stumbled upon from everywhere we've been. Jamie loves choosing things for the house so we often decide together.
What home furnishings brands do you like?
We actually pick up lots of things in antique shops and sometimes in markets. I do love finding things that no one else has so small independent shops work for me.
How do you stay in such fabulous shape as a busy mother of four?
I do love running and I also do various boot camp classes and yoga to relax.
What would a perfect date night without the kids consist of?
It would be Jamie cooking a lovely meal and cuddling up on the sofa to watch a film together.
Describe a perfect weekend for the Oliver family?
It would be at our house in Essex where we love to go for long walks and play in the woods near the house. Then all back home for a family dinner, more playing and relaxing in front of the fire.
For more celebrity interviews and inspiration for your home discover Story Living, our lifestyle magazine that's brimming with tips and advice.