We are due to begin work on three major sites in the North East after planning approval was given to developments at Rake Lane and Backworth in North Tyneside and Wynyard in County Durham.
This makes a total of five live sites in the region, joining the award-winning The Woodlands at Shotley Bridge and Kingsbrook Wood, Middlesbrough.
The company opened a permanent North East office last year at Newcastle Business Park as a base to grow its operations and anticipates more sites will come live in the next few years.
Story Homes Chief Executive Steve Errington said: "We're delighted that our plans for Backworth, Rake Lane and Wynyard have been given approval.
"We believe these developments will be genuine assets to the area and we have already had keen interest from potential buyers.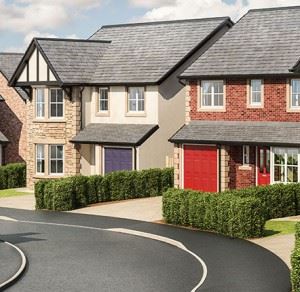 "Story Homes is looking forward to delivering a wide range of distinctive, high-quality homes on developments that will have a real community feel and provide life-long homes for people.
"These developments are part of a much-wider commitment to the North East which involves job creation and economic benefits, both directly and through our supply network, and the provision of quality homes to people in the region."
Story Homes has worked with Northumberland Estates on the Backworth development, named Brierdene, which will see 180 two, three, four and five bedroom high-quality family homes built, including an element of properties designated as affordable for local people.
The Rake Lane development, named Dove Park, will include a stylish mix of 61 two, three and four bedroom homes with nine different house types.
The Wynyard development, Fallows Park, is for 120 homes in the exclusive County Durham estate.
All three sites will bring significant benefits to the local economy through direct and indirect job opportunities, payments to the local authority and orders placed through the local supply chain – Story Homes uses local labour and materials wherever possible.
For more information about our developments in the North East, please click here.