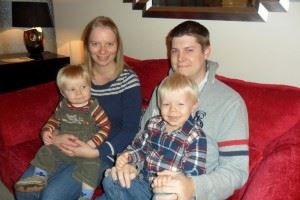 When Jon and Lucy Fuggle decided to move into a brand new Story Home, they found that part exchanging their old property was easy! Lucy, 30 and Jon, 31 will soon be moving into their new home at Grange Close, Wigton with their two young sons, Timothy, three and Joseph, one.
Lucy, a solicitor at Milburns Workington, looked around the 'Cypress' show home at Grange Close and loved the location and style of the house, particularly the large kitchen, ideally sized for cooking, dining and playing. The four good sized bedrooms also appealed to Lucy with a growing family. Lucy enquired with Sales Adviser Dawn about the possibility of part exchanging, trading in their old home in Carlisle as part payment for the new build house. Part Exchange Manager Hayley then set to work having the Fuggle's property valued and offering them a deal for their home.
Jon, a management accountant, visited the show home with the children the following week and also loved the style of the Cypress, picked a plot at Grange Close, accepted the part exchange deal, decided to use the Government's NewBuy scheme and paid the reservation fee there and then. Lucy said: "Living locally, I had always known about Story Homes houses and we knew that they were the best quality new builds in the area. The location was ideal for work, close to my family and good schools for the boys, plus an extra bedroom for friends and family to stay.
Jon added: "Using NewBuy and part exchange has been great as it has enabled us to move with only 5% deposit which has really helped us to move up the property ladder. We have been able to buy a four bedroom detached house by part exchanging a three bedroom semi. The timing has been great as it has all happened before the boys start school."
Hayley Blair, Part Exchange Manager for Story Homes made the final deal for Lucy and John. Hayley said: "With part exchange, Story Homes act as a cash buyer, removing the chain and any related stress from the house buying process. Lucy and Jon's home met all of our requirements; it was 30% less than the value of their new home and it was relatively close to our development. Customers find part exchange a great way to secure the purchase of their new Story Home."
Lucy added: "Moving into a new build is going to be great as everything is new and we have the security of the NHBC ten year guarantee certificate. The house is beautifully finished to a very high quality and very much in touch with everything a family needs and wants in terms of living space and lifestyle. The whole process has been so easy and Dawn has been very friendly, making us feel very welcome. Part exchanging has been easy and it took the stress away from moving house. We can't wait to move and Timothy and Joseph are really excited about have a big garden to play football in."