Will it be a sweet victory for these school children?
February 2015
Story Homes is proud to be supporting a local Primary School with their 'Bright Stars' entry.
Newlaithes Infant School in Carlisle is participating in the Bright Stars competition, run by the Centre for Leadership and Performance. The school children have seven weeks to grow £50 through their innovation and creativity. The competition is Cumbria-wide and the school which makes the most cash wins £1,000 for the charity of their choice.
With the help of Story Homes, the Year 2 children at Newlaithes are hoping to experience the sweet taste of victory.
To date, they have invested the whole of their stake in sweets and goodies and their plan is to bag them up and sell them to their fellow pupils. They have come up with the ingenious name of 'George's Marvellous Mixture' for their project, taking the theme from Roald Dahl's popular book 'George's Marvellous Medicine' which they are currently studying.
Shelley Hayward, Learning and Development Manager at Story Homes visited the school last week to help the children formulate some ideas and plans in their bid to win. Shelley was greatly impressed with the enthusiasm from the teaching staff and pupils: "This competition has really captivated the children's imaginations and it's lovely to see such enthusiasm. The children are very young, but with guidance from their teacher I'm sure they will be successful.
"Story Homes is very committed to these projects as they encourage future innovators and entrepreneurs; these children are future business leaders and if we can pass our knowledge to them, it can only be a good thing."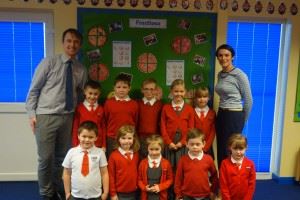 The children will be working as a team, however, to guarantee success they need to appoint a leader and this will be put to an open vote. When asked who would be putting their name in the ring as team leader, lots of hands shot up. Jorja at the tender age of six was very keen to be leader and thinks that a good team leader 'needs friendship, which means you need to be kind and caring.' While Rosie, 6, says: "It would be good to be team leader as you get to tell people what to do." Who will gain this respected title? Our next update will keep you posted.
The children are aiming to make a great profit from their sales and then are hoping to re-invest this into their next project. During discussions with the children, ideas were in abundance and included a wide-range of suggestions: from holding a cake sale, to racing pets and from holding a disco, to arranging a football tournament. Phase two of the project will be decided after George's Marvellous Mixtures have been sold.
Deputy headteacher Michael Craig had nothing but praise and encouragement for his pupils: "The competition really gives the children an opportunity to bring their entrepreneurial skills to the fore and a chance for them to work as a team. They really understand that they can make money from selling sweets and they are so enthusiastic that they want to go on and make more!
"Involving Story Homes in the project makes it real for the children and it's great that real life business skills are being put to use to help us out."
Story Homes is also working with Petteril Bank Community School. To find out how they are planning to win the competition read their story here.
We are also involved with lots of other community projects, visit our website for further information.