Designer on a mission picks up brand new home
June 2015
When Jili Allen went on a fact finding mission for a new client job, she didn't expect to leave having purchased a new family home!
Self employed graphic designer Jili, 28, was asked by Story Homes to look at creating a brand identity for an HR recruitment project and she visited The Meadows in Lazonby, Cumbria in February 2015 to find out more about the homes and the marketing approach. At this point, Jili was four months pregnant with her first child and not considering a house move, but after seeing the beautiful homes on offer, Jili decided to snap one up for her new family, including husband James Hogg, 28.
Jili, originally from Penrith, Cumbria said: "I visited the site along with my mum to take a look around and find out more about Story Homes' approach to marketing for some inspiration. I initially pretended to be a prospective buyer and my mum and I showed interest in a plot at The Meadows.
"Once I took a look around the show home and chatted with Sales Executive Diane about the Government Help to Buy scheme, I realised that owning a new home here was really achievable for our family. We were in rented accommodation in Penrith at the time and with the baby due in July, it made sense to be close to home and family. My friend lives on another Story Homes development in Clifton near Penrith and highly recommended it to me.
"I have been together with my accountant husband since we were both 17 so I knew that he would love the homes as much as I did. I was so keen on the property that after sleeping on the idea, I decided to make a reservation on a four bedroom detached 'Greenwich' house type before he had seen it. Luckily, he loves our new home too!
"I have been self employed for five years now and Story Homes had seen some of my previous work, as well as my website, and made contact to ask me to help out. I never imagined that I would end up buying a new home! The nicest thing is that my husband has been taking photos of my bump beside the house as they both grow. We will only be in our new home for a few weeks before the baby arrives so it's a fresh start for us all."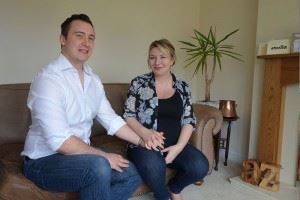 Sales Executive Diane Gilbertson said of Jili's visit: "It was lovely to be able to help out Jili when she visited us. At first she was unsure about the Help to Buy scheme and how it works, however after explaining how flexible it is and how trouble-free buying a new home can be, it didn't take long for Jili to reserve her plot. I'm just amazed that she reserved the house before her husband had even seen it! Jili and James are a delightful couple and I'm looking forward to having a new baby on the development."
For further information on the Help to Buy scheme and how to buy your dream with only a 5% deposit, click here.